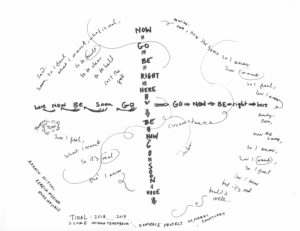 ---
Listen: I recorded this EP of songs while at Yaddo (Saratoga Springs) in February 2020, part of ongoing research into lineage through song:
In these songs, I am tracing the lineages of secular Jewish thought and assimilation that have impacted me and my body.
Special citations:
"Vanishing Point" chorus lyrics co-authored with Hadar Ahuvia
"Sondheim Structure Savior" contains melodic and lyric quotations from Stephen Sondheim's "Opening Doors" from Merrily We Roll Along. The lyric 'it's not a tune you can hum' also appears in "The Land Is Frozen."
"I Judged You" is a requiem and an apology to Sigmund Freud. I am pausing to consider his complex escape from Nazi-occupied Vienna, his refusal to accept the magnitude of antisemitism, and his imagined grief, had he lived to learn his sisters would die in the concentration camps.
"Over My Dear Body" contains lyric references to Stephen Sondheim's "Children Will Listen," the finale from Into The Woods. This was my favorite musical growing up. While at Yaddo I learned that it was based on Bruno Bettelheim's Freudian analysis of European fairy tales. There is also a lyric reference to the civil rights era song "Oh, Freedom" popularized by singer Odetta.

---
Land Acknowledgment
My collaborators and I pay​ respect to Lenape peoples. We acknowledge that our ongoing work here is situated within Lenapehoking, the Lenape homeland.  We pay respect to Lenape land, water, and ancestors past, present and future.