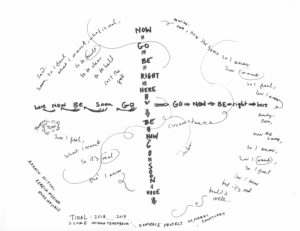 ---
Listen: Ache Higher is an album of songs exploring land metaphors, truths, and fictions as embodied destinations: vanishing point; disappearance; the end of our assimilation; the end of conquest. It is weaving my love of Sondheim with original music, quotations and commentary. This is where I am in 2020, and I will continue to move.
In the snowy woods of Saratoga Springs I was finally able to read the play Green Grows the Lilacs by turn-of-the-century Cherokee playwright Lynn Riggs, on which the musical Oklahoma! was based. Like Rodgers & Hammerstein, my ancestors were European Jews who settled in New York City. My grandparents were Broadway producers–I grew up regarding the tuneful stories of the Broadway stage as personal folklore. As I read Rigg's original play, set in Indian Territory not yet Oklahoma, I sat with histories of land theft, genocide and the mythologizing of an American frontier, and psychological interior my ancestors took part in constructing through body and voice.
My first night there was a blizzard. Tree branches cracked and fell under the weight of the snow. On my cold afternoon walks I noticed how the ice protects the ground, and life beneath it. My studio had a piano. There I wept unexpected tears I didn't know I had–for my childhood instrument, for my formal education at Oberlin Conservatory, where I was discouraged from composing at instruments in favor of directly on paper. This disconnect between musical expression and my body is a wound I have been gently nursing, healing, and reconciling through movement, breath, body and voice. It led me here.
Special citations:
"Vanishing Point" chorus lyrics co-authored with Hadar Ahuvia
"Sondheim Structure Savior" contains melodic and lyric quotations from Stephen Sondheim's "Opening Doors" from Merrily We Roll Along. The lyric 'it's not a tune you can hum' also appears in "The Land Is Frozen."
"I Judged You" is a requiem and an apology to Sigmund Freud. His assimilation is partly what led him to ignore the magnitude of antisemitism in Vienna in the 1940s, despite the warning signs. He died shortly after being airlifted out of Austria. I imagine his grief had he lived to learn his sisters would die in the concentration camps. As I work to undo my own assimilation and confront my whiteness, I find myself rejecting a victim narrative that has too often been weaponized–but is also a pathway toward empathy and allyship.
"Over My Dear Body" contains lyric references to Stephen Sondheim's "Children Will Listen," the finale from Into The Woods. This was my favorite Sondheim musical growing up. I learned that it was adapted from Bruno Bettelheim's Freudian analysis of European fairy tales. Both my parents are psychotherapists.
There is a lyric reference to the civil rights era song "Oh, Freedom" popularized by singer Odetta.
released February 23, 2020
---
Land Acknowledgment
My collaborators and I pay​ respect to Lenape peoples. We acknowledge that our ongoing work here is situated within Lenapehoking, the Lenape homeland.  We pay respect to Lenape land, water, and ancestors past, present and future.