Everything You Have Is Yours (post-production)
Israeli/American NYC-based choreographer Hadar Ahuvia is the granddaughter of Zionist 'kibbutzniks,' collectivist pioneers in 1920's Palestine. Out of their need for a national cultural identity grew Israeli folk dance. Salient amongst their source material were dances and songs appropriated from Palestinians, the people whose land they occupied and ultimately displaced.
While Hadar's family moved between Israel/Palestine and the US/Turtle Island, Hadar grew up dancing in her mother's Israeli folk dance troupe. As an adult, she begins to question the implications of these dances. Motivated by voices of Palestinians, the Jewish Left and the insights of her collaborators, Hadar's growing awareness drives a wedge between her ideological past and an emergent future beyond Zionism.
Director Tatyana Tenenbaum, Producer Brighid Greene, Editor Colin Nusbaum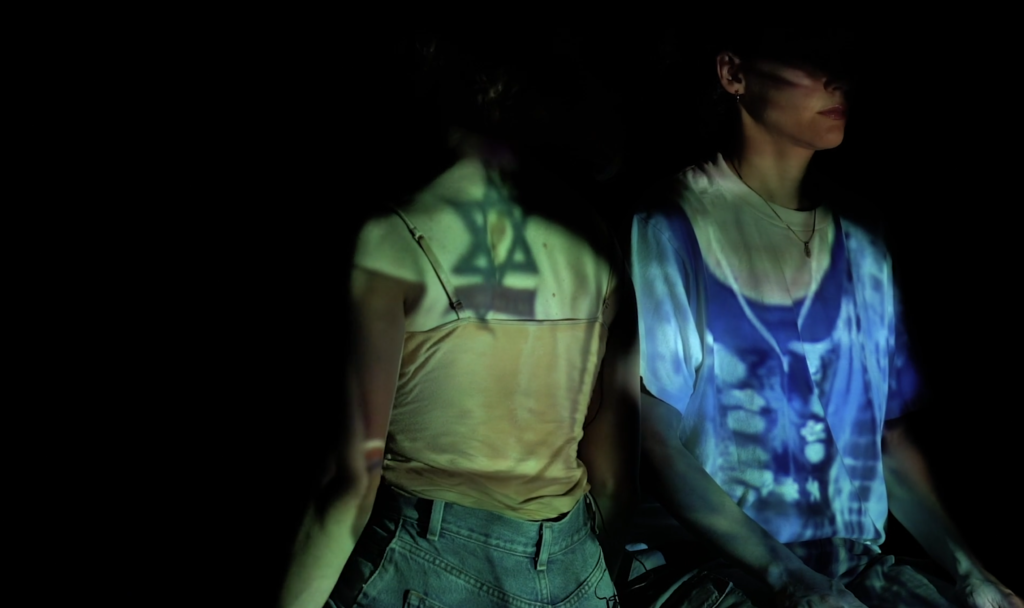 Production still: Hadar Ahuvia (L) and Mor Mendel (R)
– – SELECTED PORTFOLIO – –
My film work draws on my work as a dancer, choreographer and vocalist.  Through the camera I am drawn to the inextricable relationship of our lineages to our bodies and voices. I am the resident videographer for Baryshnikov Arts Center where I have created intimate artist portraits since 2014. Other clients include Time Square Arts, Composers Now, The Cunningham Trust, Art Matters Foundation, Franklin Street Works, and countless independent artists in New York City. I am currently working on a dance documentary Everything You Have is Yours about Hadar Ahuvia's choreographic work of the same name. The following are samples of edited documentation, and some of the artists and work I am honored to witness:
zavé martohardjono ay.eye.ay (2021)
believe what they say that they intend to destroy us and fall back into your mind's eye
From zavé: "This film reflects how dance in 2020 for me became a solitary ritual, so private I finally felt comfortable dancing in the open air for no one. My dances for no one happened spontaneously, impulsively on my roof or in the park by the river during night walks. They enabled communication with my ancestors and moved me through grief, confusion, and rage about the times we are surviving. The improvised dance and poem in this film, captured on camera by Tatyana, blends with footage I took of my altar and videos from my phone of wide skies I've watched from parks and beaches in Munsee Lenape/Canarsie land aka Brooklyn and snowy creeks I've walked along in Munsee Lenape land hours north of the city during the pandemic. Landscapes that facilitated reflection and reckoning."
Jeffrey Gibson She Never Dances Alone (2020)
Documentation of Jeffrey Gibson's multiscreen work in Times Square, as well as interviews with Gibson and his collaborators for a live event.
Dorothée Munyaneza Artist Profile (2017)
Resident artist Dorothée Munyaneza in conversation at BAC.
A walk in the Garden: Tonia Ko and Yasuno Miyauchi (2016)
Composers Now Creative Residents Tonia Ko and Yasuno Miyauchi discuss their collaborative work at the Pocantico Center of the Rockefeller Brothers Fund in the fall of 2016.
White Knuckle (2016)
Co-authored by Ander Mikalson and Carey Denniston
Performed by Kelsey Strauch, Barb Smith and Em Rooney
February 3 & 4, 2017. Kate Werble Gallery, New York, NY
North Shore (2015)
Documentation of live performance by Carey Denniston and Ander Mikalson. Performed by Nicole Ohr and Ryan Rockmore on August 14, 2015 at Moiety in Brooklyn, NY.
More work available on the Baryshnikov Arts Center Vimeo: https://vimeo.com/bacnyc where I am the resident videographer