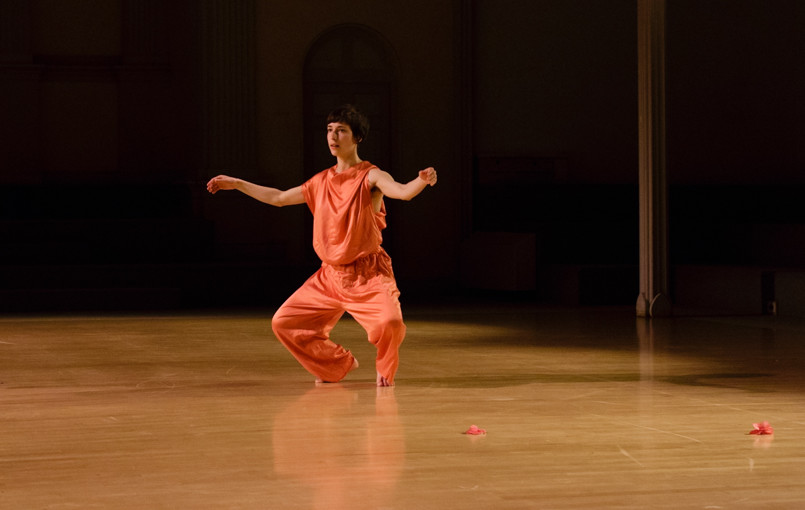 Tatyana Tenenbaum is a choreographer and composer based in Brooklyn, NY.  Her work explores the phenomenal space of the singing body, from interwoven perspectives of dance, performance, theater and music.  Using the voice as the central point of deconstruction, she aims to perform an American singing-dancing body from the inside out.
Tatyana spent her childhood writing and directing musical plays.  She attended Oberlin College & Conservatory of Music, where she received dual degrees in dance and music composition.  After graduating she curated  a monthly show at The Tank (NYC) called The Raw and the Cooked, for musicians and dancers to share improvisational practices through performance.
Her original work has been commissioned and presented by The Chocolate Factory Theater,  Temple University, Dance Theater Workshop Fresh Tracks, Center for Performance Research, Roulette Intermedium, Danspace Project's Draftwork series, Panopoly Performance Laboratory, The Watermill Center and AUNTS, among others.  She has been an artist-in-residence at Pieter PASD (LA), The Field (NYC) and Espacio Ambimental (Bogotá, Colombia).  She has received support from the National Foundation for Advancement in the Arts, the Brooklyn Arts Council and the Foundation for Contemporary Arts Emergency Grant.
She has had the privilege of performing and collaborating with Yoshiko Chuma and the School of Hard Knocks (Love Story, Palestine), Daria Fain and Robert Kocik (Commons Choir) and Jennifer Monson (Live Dancing Archive).  She also created and performed live sound design for Levi Gonzalez (The Craft of the Father).
As a curator and community activist Tatyana co-organizes radical teaching platform CLASSCLASSCLASS and was a co-curator of the 2014 Movement Research Spring Festival fallow time.  She was a founding organizer for Brooklyn Studios for Dance.