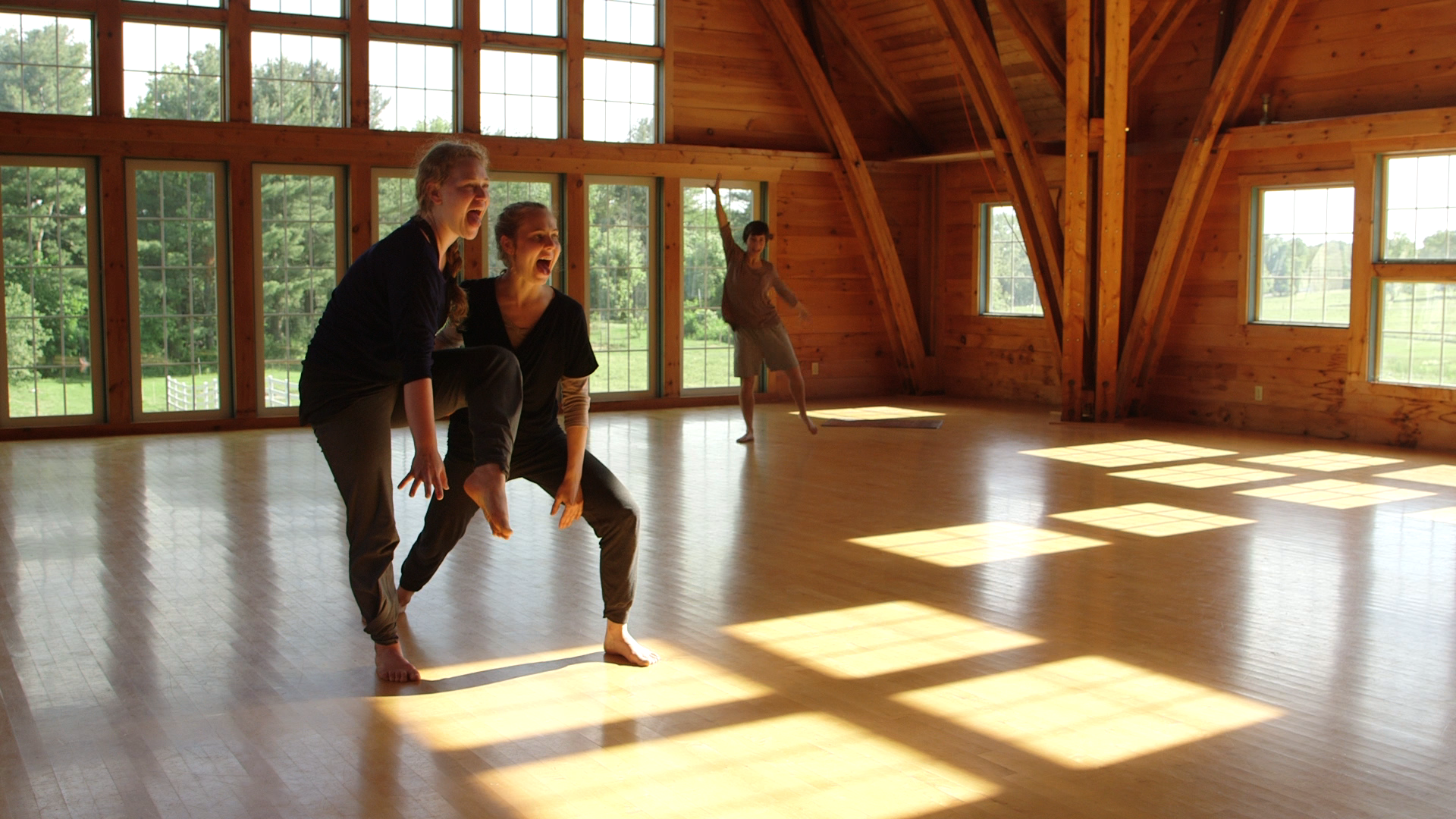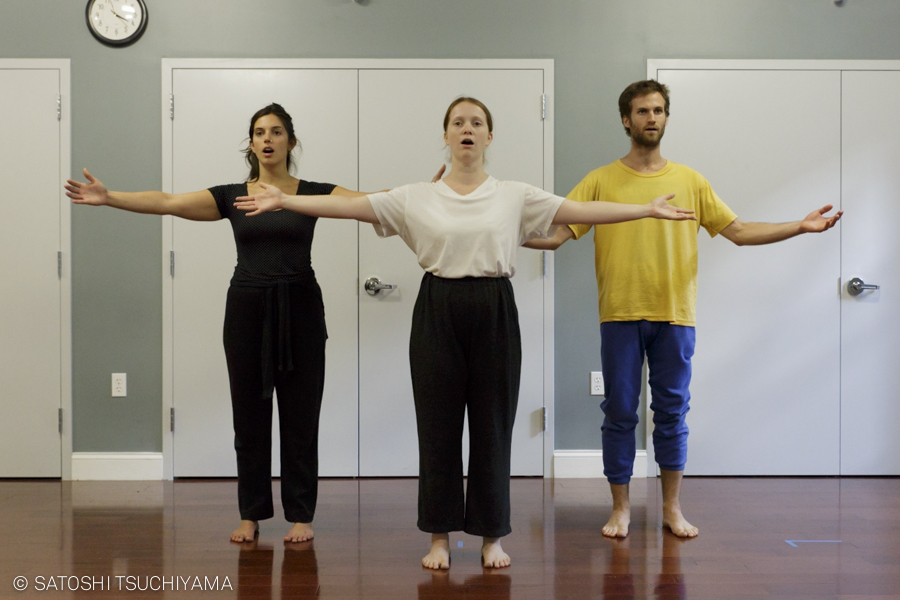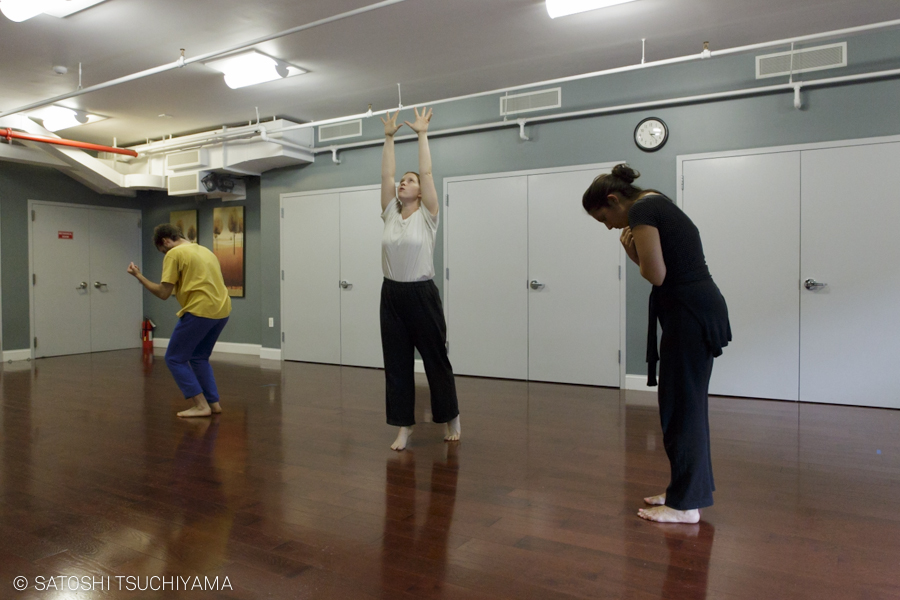 Photos: Colin Nusbaum and Satoshi Tsuchiyama
Emily Moore (Thunder, Untitled Work for Voice) is a Dance Artist and Somatic Educator. She is grateful to be deepening her artistry and research through Tatyana's artistic process. In addition to performing with Tatyana Tenenbaum, Emily has performed in works by AnnekeHansen Dance, Koosil-ja and danceKUMIKO, projectLIMB, Margaret Paek, Rebecca Bryant, Lower Left, AdrianJevicki, Run Shayo, and Deborah Hay. She is also currently working on a project with Liquid Body. She maintains a teaching practice where she combines restorative exercise, somatic exploration, artistic expression, community building, nature-based and healthful practices to bring her clients and community to their next level of health and well-being. After healing herself from a decade of gut, back, hip, and knee pain through natural movement, bodywork, and nutrition, Emily started Nourish Pulse to help people like her, who wanted to live pain-free and with abundant physical prosperity. Emily co-founded Altaer Education, altaer.org, and leads ecosomatic arts adventures in the wilderness. She is a graduate of NYU Tisch School of Dance.
Marisa Clementi (Thunder, Untitled Work for Voice) Marisa Clementi's recent projects include: Associate Choreographer for Cesar Alvarez's The Universe is a Small Hat, choreographer for pop group KYLIAN, and co-director of Merced de Papel (Vox Fest, Dartmouth College). Marisa most recently performed in A Marvelous Order at Williams College (music Judd Greenstein, dir. Josh Frankel, choreo. Will Rawls), and Tatyana Tenenbaum's Thunder at Brooklyn Studios for Dance. She is currently directing a new play by Storm Thomas entitled Notes on the Past, premiering at The Brick in June. BA, Music (Dartmouth College). MFA , Dance (Sarah Lawrence College).
Athena Kokoronis/Domestic Performance Agency (Costumes, Thunder) "The Domestic Performance Agency (DPA)–housed within creator Athena Kokoronis' home–is constantly exploring the potential and possibilities of what a seemingly domestic space can support outside the day to day minutiae of existence. Built for transformation, the DPA consistently hosts artists not only in their own creative processes via rehearsal and performance space but invites them into Kokoronis' creative acts as well. Part kitchen, part installation, part clothing shop, part dance studio, part economic think tank, the DPA practices art-making everyday and through intense hospitality extends that opportunity to other interested/invested artists" More info: http://domesticperformanceagency.com/
---
Past Collaborators
Laurel Snyder (Thunder, Private Country), originally from Northern Virginia, is an independent Dance Artist and Educator  currently based in Brooklyn, NY. She received the majority of her physical training at NYU Tisch School of the Arts and various dance festivals throughout the USA and Europe. Professionally, Laurel has been privileged to collaborate/perform with  artists such as Kendra Portier/BANDportier, Paul Singh, Jacob Slominski, Kathleen Hermesdorf, Risa Jaroslow, Dante Brown/Warehouse Dance, Faye Driscoll and David Dorfman. Her choreography has been presented by spaces such as the Tank, H.T. Chen's Newsteps series, Triskelion Arts, White Wave, Greenspace, Center for Performance Research (CPR), Chez Bushwick, Deltebre Danza (Spain) and Ponderosa (Germany). Laurel has been working with Tatyana Tenenbaum since 2011.
Ashley Handel (Thunder) is originally from Southern California. She has been a dancer and performer in NYC for 5 years. She currently collaborates with Tatyana Tenenbaum and Third Rail Projects, and has preciously worked with Anneke Hansen, Will Rawls, Miguel Gutierrez, Sam Kim, Alex Rodabaugh, Austin McCormick (Company XIV), and as an apprentice dancer for the Bill T. Jones/Arnie Zane Dance Company. She also choreographs for Hofstra Opera Theater, under the direction of Isabel Milenski, and makes dance work with friend and collaborator Yuliya Romanskaya. She is a Sagittarius with her moon in Leo and Capricorn rising.
Li Cata (Thunder) is a dancer and performer from Baltimore, currently living in New York. His movement training began while studying and performing on aerial silks in Chile, Baltimore, and New York. He danced with Baltimore's Effervescent Collective and made solo work from 2010 to 2012 before moving to New York. In New York, Li has continued to make work while studying contemporary dance and performing for Leimay, Teresa Fellion, Mina Nishimura, Laurel Snyder, and, currently, Tatyana Tenenbaum. His own work has been shown at Triskelion Arts, Dixon Place, Movement Research at the Judson Church, the Lumen Festival, and Panoply Performance Laboratory.
Talya Epstein (Private Country) is originally from Sharon, Massachusetts and now resides in Brooklyn. Her work has been shown through Danspace Project's Draftwork series, Movement Research at Judson Church, AUNTS, Dixon Place's Body Blend series, The Tank, Galapagos Art Space, Bushwick Starr, The Flynn Center for the Performing Arts, among others. She is currently engaged in creative processes with Melinda Ring, Larissa Velez-Jackson, and Juliana May. Talya holds a BFA from The Boston Conservatory and currently attends Janet Panetta's ballet class whenever possible.
Ezra Tenenbaum (Private Country, The Near(ness)) is a New York-based performer, music producer, and the frontman of jangle-pop new wave-tinged trio EZTV. Ezra also works for Found Sound Nation's 1beat fellowship program and has contributed to their projects at Blair Grocery in New Orleans, Bronx's Horizons Juvenile Center, Brooklyn Prospect Charter School, and Brooklyn Community Arts and Media High School. He has performed at Glasslands, Baby's Alright, The Knitting Factory, Rough Trade, Death By Audio, as well as Dance New Amsterdam, the Center for Performance Research, and other independent NYC venues.
Odeya Nini (Private Country) is a Los Angeles based experimental vocalist and contemporary composer. At the locus of her interests are textural harmony, gesture, tonal animation, and the illumination of minute sounds, in works spanning chamber music to vocal pieces and collages of musique concrete. As a vocalist she is devoted to redefining vocal interpretation and song through an exploration of extended vocal techniques and how they communicate in conjunction with the physical body's language. Originally from NY, Odeya holds a BFA in vocal performance from the New School for Jazz and Contemporary Music, where she studied with vocalist Theo Bleckmann, and an MFA in composition from California Institute of the Arts. Most recently, her work has been presented at the Hammer museum in Los Angeles as part of the Wild Up residency, an LA based contemporary orchestra and collective. She has collaborated extensively with dancers, animators, film makers and theater directors. Her work has been performed at venues and festivals around the US and internationally from San Francisco to Odessa and Mongolia.
Peter Sciscioli (Private Country) is a Brooklyn-based performer, choreographer, educator and administrator whose work encompasses dance, music, and theater. Since 1997 he has been creating interdisciplinary performance works with a wide variety of collaborators for concert, site-specific and theater venues throughout the world. Peter has worked closely with composer/singer Meredith Monk since 2003, was a member of Jane Comfort and Company from 2004-2010 and performed with Daria Fain from 2007-2013. He is also a co-founder of The M6: Meredith Monk Music Third Generation, an ensemble dedicated to preserving Monk's extraordinary musical legacy, and the founder of the International Interdisciplinary Artists Consortium. Peter has had the honor of performing in major venues in the U.S., Brazil, Eastern and Western Europe, and has taught extensively at Earthdance and universities throughout the country. He is currently working on a project with Serbian actress/vocalist Ana Sofrenovic, and serves as Projects Director for Meredith Monk/The House Foundation, the voice teacher for the Trinity/La Mama Urban Arts Semester NYC, and on the programming committee for Earthdance. www.petersciscioli.com