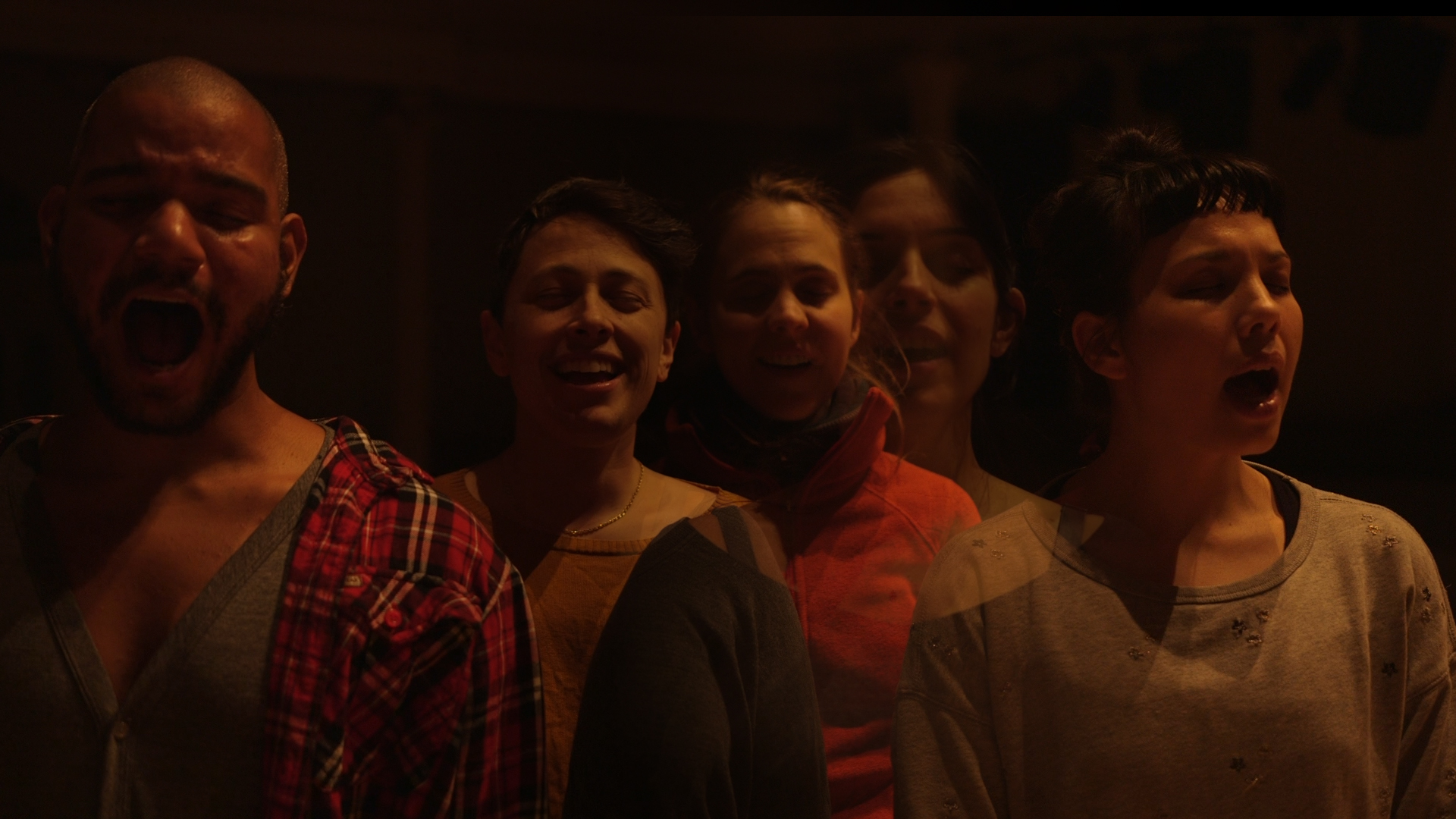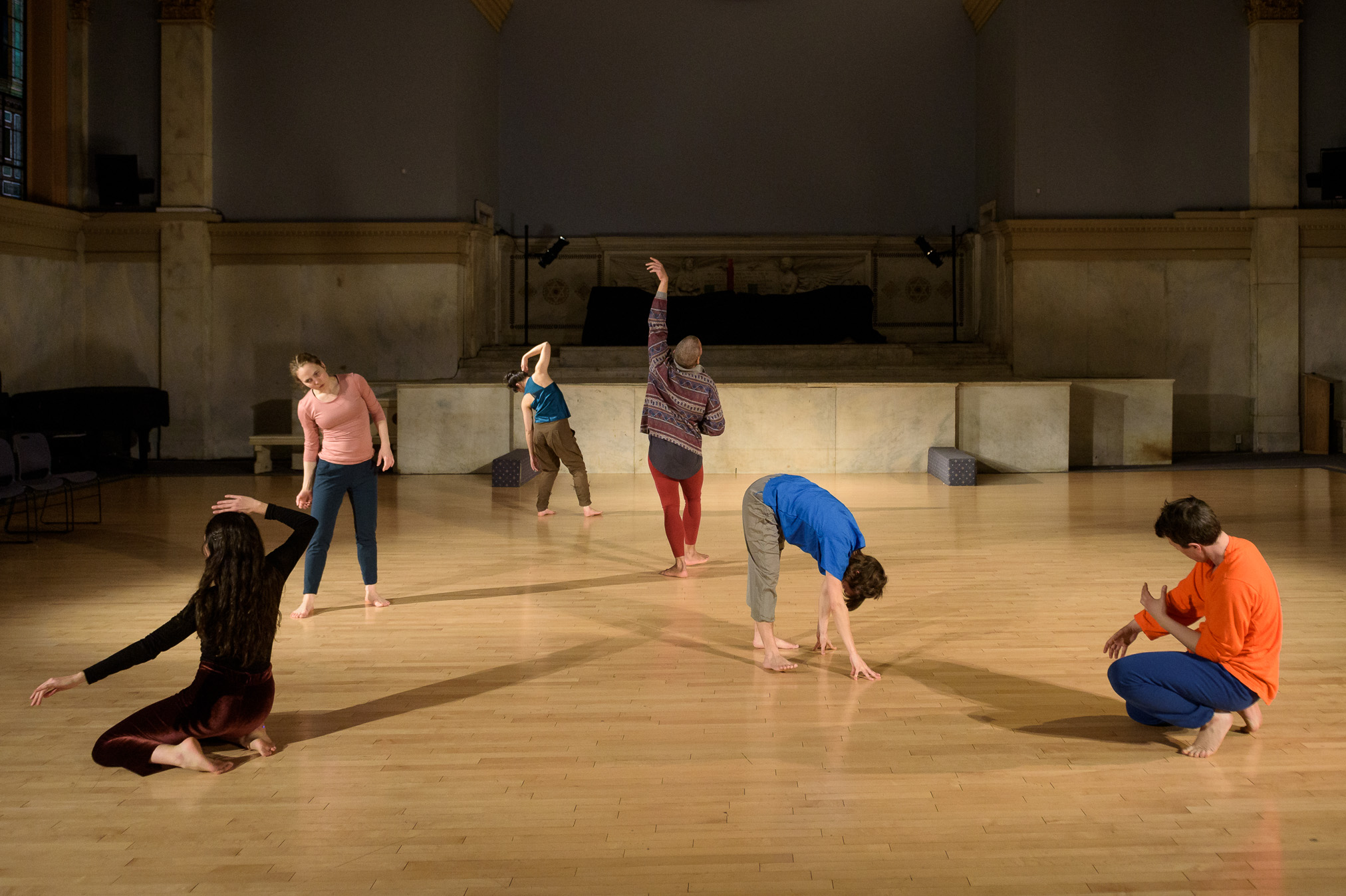 Photos: Tatyana Tenenbaum / Ian Douglass
Marisa Clementi (Tidal, Untitled Work for Voice, Thunder) is a mover, musician, maker, and director of To Rena, Love Us, co-founded with Storm Thomas. They're into magical realism. Their show, Ancient Future, will be part of the Polyphone Festival (Philadelphia) this spring. Thanks to Tatyana, an old friend, for her gentle yet steadfast leadership. And to Pareena, Emily, and Jules for their intuition, intelligence, humor, and curiosity.  
Pareena Lim (Tidal, Untitled Work for Voice) is Pisces Sun, Cancer Ascending, and Capricorn Moon. She is a workaholic, a pragmatist, a homebody, and a deep feeling dreamer. In college she authored a piece that she called Apollonian Tendencies (a silly piece involving prime numbers). These days thanks to Tatyana, she has become more curious about her Dionysian inclinations. Her current subjects of self-study are biomechanics, motor learning pedagogy, and Marxism. She experiences perpetual wanderlust which she attributes to growing up as a third culture kid outside of the USA, with parents from two different cultures. So far, her favorite space to be is in her body through somatic travel. Her two favorite bones are her sphenoid and her navicular.
Rebeca Medina (Cartographer Tidal, Lighting Design Thunder) is a dance maker originally from Bogotá, Colombia. Her choreographic work is rooted in the observation of non-human beings and her questions about human-imposed borders.
Emily Moore (Tidal, Untitled Work for Voice, Thunder) is a dance artist and movement & somatic educator. She has worked with Tatyana Tenenbaum since 2014. She wants to thank everyone who keeps dance and performance alive in this city. You keep my heart pumping, and the ground under my feet fertile. This performance is for you.
Jules Skloot (Tidal, Untitled Work for Voice) is a performer, teacher, and summer camp director living in Brooklyn, NY. In addition to years of learning and somatic practice outside of higher ed institutions, Jules studied at Hampshire College and at Sarah Lawrence College. Jules has performed most recently with Circus Amok, devynemory/beastproductions, and iele paloumpis, and collaborated for many years with Katy Pyle on the Ballez. Jules teaches dance to people of all ages, health classes to middle schoolers, facilitates leadership and anti-oppression workshops, and is committed to joy and collective liberation in all these endeavors.
Saúl Ulerio (Tidal) is a Dominican-American choreographer, musician and performer. Ulerio has been seen in the works of Heather Kravas, RoseAnne Spradlin, Rebecca Lazier, Kota Yamazaki amongst other, and currently performs in the works of Antonio Ramos, Daria Faïn, Ivy Baldwin . Ulerio was a 2011-2012 New York Live Arts Fresh Tracks Artist and a 2012-2014 Movement Research Artist in Residence.
---
Past Collaborators
Claire Fleury (Costumes, Untitled Work for Voice) Costumer since 2014. With a long history in dance and theatre, CF creates her designs with a stage in mind. She uses vibrant textiles and easy going but structural silhouettes to create appealing agender styles. Cf designs and makes costumes for dance, theatre and nightlife, and garments for all occasions as long as it is something special. She has made dance costumes for Antonio Ramos, Coco Karol, Yackez (Jon and Larissa Velez-Jackson) Molly Lieber and Eleanor Smith, and custom garments for Laurie Anderson and Susanne Bartsch, among others.
Laurel Snyder (Thunder, Private Country), originally from Northern Virginia, is an independent Dance Artist and Educator  currently based in Brooklyn, NY. She received the majority of her physical training at NYU Tisch School of the Arts and various dance festivals throughout the USA and Europe. Professionally, Laurel has been privileged to collaborate/perform with  artists such as Kendra Portier/BANDportier, Paul Singh, Jacob Slominski, Kathleen Hermesdorf, Risa Jaroslow, Dante Brown/Warehouse Dance, Faye Driscoll and David Dorfman. Her choreography has been presented by spaces such as the Tank, H.T. Chen's Newsteps series, Triskelion Arts, White Wave, Greenspace, Center for Performance Research (CPR), Chez Bushwick, Deltebre Danza (Spain) and Ponderosa (Germany). Laurel has been working with Tatyana Tenenbaum since 2011.
Athena Kokoronis/Domestic Performance Agency (Costumes, Thunder) "The Domestic Performance Agency (DPA)–housed within creator Athena Kokoronis' home–is constantly exploring the potential and possibilities of what a seemingly domestic space can support outside the day to day minutiae of existence. Built for transformation, the DPA consistently hosts artists not only in their own creative processes via rehearsal and performance space but invites them into Kokoronis' creative acts as well. Part kitchen, part installation, part clothing shop, part dance studio, part economic think tank, the DPA practices art-making everyday and through intense hospitality extends that opportunity to other interested/invested artists" More info: http://domesticperformanceagency.com/
Ashley Handel (Thunder) is originally from Southern California. She has been a dancer and performer in NYC for 5 years. She currently collaborates with Tatyana Tenenbaum and Third Rail Projects, and has preciously worked with Anneke Hansen, Will Rawls, Miguel Gutierrez, Sam Kim, Alex Rodabaugh, Austin McCormick (Company XIV), and as an apprentice dancer for the Bill T. Jones/Arnie Zane Dance Company. She also choreographs for Hofstra Opera Theater, under the direction of Isabel Milenski, and makes dance work with friend and collaborator Yuliya Romanskaya. She is a Sagittarius with her moon in Leo and Capricorn rising.
Li Cata (Thunder) is a dancer and performer from Baltimore, currently living in New York. His movement training began while studying and performing on aerial silks in Chile, Baltimore, and New York. He danced with Baltimore's Effervescent Collective and made solo work from 2010 to 2012 before moving to New York. In New York, Li has continued to make work while studying contemporary dance and performing for Leimay, Teresa Fellion, Mina Nishimura, Laurel Snyder, and, currently, Tatyana Tenenbaum. His own work has been shown at Triskelion Arts, Dixon Place, Movement Research at the Judson Church, the Lumen Festival, and Panoply Performance Laboratory.
Talya Epstein (Private Country) is originally from Sharon, Massachusetts and now resides in Brooklyn. Her work has been shown through Danspace Project's Draftwork series, Movement Research at Judson Church, AUNTS, Dixon Place's Body Blend series, The Tank, Galapagos Art Space, Bushwick Starr, The Flynn Center for the Performing Arts, among others. She is currently engaged in creative processes with Melinda Ring, Larissa Velez-Jackson, and Juliana May. Talya holds a BFA from The Boston Conservatory and currently attends Janet Panetta's ballet class whenever possible.
Ezra Tenenbaum (Private Country, The Near(ness)) is a New York-based performer, music producer, and the frontman of jangle-pop new wave-tinged trio EZTV. Ezra also works for Found Sound Nation's 1beat fellowship program and has contributed to their projects at Blair Grocery in New Orleans, Bronx's Horizons Juvenile Center, Brooklyn Prospect Charter School, and Brooklyn Community Arts and Media High School. He has performed at Glasslands, Baby's Alright, The Knitting Factory, Rough Trade, Death By Audio, as well as Dance New Amsterdam, the Center for Performance Research, and other independent NYC venues.
Odeya Nini (Private Country) is a Los Angeles based experimental vocalist and contemporary composer. At the locus of her interests are textural harmony, gesture, tonal animation, and the illumination of minute sounds, in works spanning chamber music to vocal pieces and collages of musique concrete. As a vocalist she is devoted to redefining vocal interpretation and song through an exploration of extended vocal techniques and how they communicate in conjunction with the physical body's language. Originally from NY, Odeya holds a BFA in vocal performance from the New School for Jazz and Contemporary Music, where she studied with vocalist Theo Bleckmann, and an MFA in composition from California Institute of the Arts. Most recently, her work has been presented at the Hammer museum in Los Angeles as part of the Wild Up residency, an LA based contemporary orchestra and collective. She has collaborated extensively with dancers, animators, film makers and theater directors. Her work has been performed at venues and festivals around the US and internationally from San Francisco to Odessa and Mongolia.
Peter Sciscioli (Private Country) is a Brooklyn-based performer, choreographer, educator and administrator whose work encompasses dance, music, and theater. Since 1997 he has been creating interdisciplinary performance works with a wide variety of collaborators for concert, site-specific and theater venues throughout the world. Peter has worked closely with composer/singer Meredith Monk since 2003, was a member of Jane Comfort and Company from 2004-2010 and performed with Daria Fain from 2007-2013. He is also a co-founder of The M6: Meredith Monk Music Third Generation, an ensemble dedicated to preserving Monk's extraordinary musical legacy, and the founder of the International Interdisciplinary Artists Consortium. Peter has had the honor of performing in major venues in the U.S., Brazil, Eastern and Western Europe, and has taught extensively at Earthdance and universities throughout the country. He is currently working on a project with Serbian actress/vocalist Ana Sofrenovic, and serves as Projects Director for Meredith Monk/The House Foundation, the voice teacher for the Trinity/La Mama Urban Arts Semester NYC, and on the programming committee for Earthdance. www.petersciscioli.com